I don't know if Mark was the Paul to my John or if maybe I was the Keith to his Mick.  We got along far better than Glenn Frey and Don Henley, dressed more casually than Johnny Rotten and Sid Vicious, and didn't carry handguns like Dr. Dre and Ice Cube.  We were just a couple guys on Chicago's North Side that loved rock and roll.
Mark and I had known each other for some time before we discovered our shared passion for rock.  But when the day came that we finally got around to discussing music, two things were revealed: 1) we loved The Rolling Stones; and 2) our favorite hobby was playing guitar.   You may reasonably assume that the reason we each viewed playing our instruments as a hobby rather than a career was largely a function of our musical abilities.
Mark was tall, goateed, and tended bar at Lakeview Links, a popular bar on Chicago's North Side.  As easy going as they get with an enormous sense of humor, Mark shared my passion for both loud, crunchy guitars and rock cliches.  By day he traded stocks from his apartment and at night he worked at the Links.  Mark tended to respond to most statements with, "That's what I'm talkin' 'bout!"  In fact, he had developed a couple hundred different ways to say it, depending on the occasion.  For instance, if the Cubs scored a couple runs in the first inning, he might turn around and studiously advise, "That, my friends, is exactly what I'm talking about."  Later in the game, if the Cubs won on a walk-off homer, he would exclaim, "THASSWHATI'MTALKINBOUT!" in a joyous, explosive burst.
We loved Spinal Tap and we were each weaned on a steady diet of classic rock with wide exposure to other more underground acts through the years.  There were, of course, some mutually respected variances.
Mark held Cheap Trick in the same regard that a Texan might hold the right to bear arms.  And while I will always give Mr. Zander his quite proper due, I gravitated to heavier genres under the umbrella of heavy metal.  To this date one of my favorite live music experiences ever was front row at a Judas Priest show on the Turbo tour.   My ears are still ringing.
But where The Rolling Stones were concerned, we were all in, agreeing that anyone who didn't love "Exile on Main Street" should be horsewhipped in a large stadium with reasonably-priced pay per view access for the rest of the world to enjoy.  I don't remember if either of us had a terribly strong opinion of The Beatles.
We decided to get together with our guitars one day and see what happened.  I remember playing only one song that day-  "Dead Flowers," by The Rolling Stones.  Fifteen years on, I know we played other tunes, but I am a bit hazy about what those tunes might have been.  I can assure you however, that first session went something like this:
"Do you know [song name] by [classic rock band]?"
"I think so.  How does it go again?"
"Like this."  [three chord progression, punctuated by "No… wait… ok, like this…  yeah, like that"]
"Yeah, I think so.  [halfhearted attempt at song]  How about [song name] by [other classic rock band]?"
"I think so.  How does it go again?"
Etc.
Surprisingly, we did not suck as hellaciously as I think either of us had feared.  While we were each a little reluctant to reveal our vocal limitations to the other, somehow we moved past ego and let it fly.  Mark was quite a bit further along in his guitar scales, so he started taking leads while I chopped out lines of rhythm and we shared singing duties.  It was epic.  To us, at least.
Then and there we decided to start a band and before taking the discussion any further, we did what every pair of musicians has ever done at that very same crossroads- we started throwing around band names.
Eventually, "The Solid Gold Dancers" lost out to "The Fuhrman Tapes."
For those who don't recall, "the Fuhrman Tapes" were a series of audio recordings made famous during the O.J. Simpson trial.  LAPD officer Mark Fuhrman was unwittingly recorded dropping more n-words than the annual Death Row Records Christmas party.  The tapes completely impeached his character and generally made the Los Angeles police and prosecutors look silly in a way that few could ever conceive looking.
To us, "The Fuhrman Tapes" represented nothing other than a super trendy catch phrase.  We just needed something that meant nothing, but in a very ambiguous way.   At the time, you would have a difficult time swinging a Vienna beef frank without hitting a person, television or radio uttering that phrase, so we used it.
Now, the advantage that we had over other bands throughout history is that we had a bar at our disposal- Lakeview Links.  Mark worked there, I drank there several days a week, and our mutual social circle was comprised almost entirely of the owners and employees of the bar.  If record labels could manufacture their own pop stars, why couldn't a bar manufacture its own bar band?
Lakeview Links was so named because it once featured an eighteen hole miniature golf course in the sizable upstairs.  When we were there, the upstairs was just two massive rooms full of Big Ten graduates, north side union laborers, and a never ending river of all star drinkers from the north side.  It was a sports bar, a music venue, a restaurant, and for many of us, a second home.
Downstairs had a huge music room with a state of the art sound system whose sonic capacities far eclipsed the relative talent and reputation of the acts that played there.  However, it was a fantastically popular music venue for Chicago's bar bands, including "Hello Dave," "Underwater People," and crowd favorites "Something for Joey."
We figured it was perfect for us.
Still, if we were going to rock Wembley someday, we needed a drummer and a bass player.  Enter Moose.
Brian, aka "Moose," was one of the owners of the bar.  A, tall, bespectacled mad scientist by day, Moose was just as comfortable talking about plutonium (which he handled) as he was promoting the virtues of Pabst Blue Ribbon over local favorite Old Style.  A science guy to the core, his idea of making an idea simpler usually involved conversion to the Kelvin scale.  One of those brilliantly deceptive down-to-earth types, Moose got his ya ya's out once a month by jumping up onstage with Something for Joey to sing the KISS classic "Rock 'n Roll All Night."  They would sometimes stop serving beer during his performance just to make sure the attention of the patrons was properly focused.
Brazenly, we told Moose we were starting a band and asked how we might go about reserving a slot on the upcoming schedule.  It was not lost on Moose that we were a band of two marginally talented guitar players who had yet to formally rehearse, had a song list less than the fingers on either of his hands, and who were without a drummer or bass player.
Still, in vintage Moose fashion, he responded to our someone request by saying, "Let me see what I can do."
Then he stopped and said, "What about a drummer?"
"No idea.  We were going to ask around."
"Why don't I just buy a drum kit?"
"What?"
"Sure.  I'll get one this week.  I'll put it in the basement of the bar and we can rehearse there."
"Really?"
"Sure."
"Have you ever played drums before?"
"No- I'll figure it out.  How hard can it be?"
"OK."
Moose handled plutonium all day long.  Who were we to argue?  More importantly, we now had a rehearsal space.
During this conversation, we were unaware that the pot-bellied black guy sitting at the corner of the bar and draining beers like he hated his liver, was intently eavesdropping on our discussion.
"You guys looking for a bass player?"
Randy was as much a fixture at Lakeview Links as the bar itself.  He spent more time there than anyone, including the employees and the cockroaches.  Randy would pull up a bar stool and hold forth with anyone who would appear next to them, whether they were sitting at a stool or asking for directions to the restroom.  Now, I would very much like to avoid offending anyone's social or political sensibilities, but it is critical to note that Randy was much whiter than any of us.  He even sounded white.  Have you ever heard Eddie Murphy imitate the way white people talk?  That's how Randy sounded all of the time.
We never realized Randy was a musician, let alone a very good one.  In fact, he turned out to be the best musician among us.
An overweight sweatshirt aficionado with huge, thick glasses, Randy's tastes ran to basically anything fringe.  He was my kind of music snob.  If he had never heard of the band you were talking about, he would immediately and enthusiastically start telling you why that band sucked.  If you did get him to discuss popular, classic, or mainstream bands, the only songs he would admit were any good were the obscure b-sides that nobody had ever heard of (and whose existence could not be proven).
Despite our musical differences, we had enough common area to call ourselves an official band.  We began kicking around ideas for songs, with each member having equal input, so long as Mark and I had ultimate right of refusal.  Again, such a leveraged hierarchy is simply a longstanding rock and roll tradition.
The rehearsal list ran between fifteen and twenty songs.  We would gather in our rehearsal space in the basement, which was a large room well insulated by coolers, cases of beer, and assorted furniture and boxes that ensured that we could play as loudly as we liked without anyone upstairs hearing us.  And if some of the employees came down for a break to watch us rehearse, no one could hear them scream.  It was perfect.
Moose valiantly tried to tame the elusive 4/4 beat, and there was many a day when he actually nailed it for a little while.  Let's just say that if Moose was standing outside your door, you would know it was Moose by the knocking speeding up, then slowing down.
Although Randy turned out to be every bit as good as he had implied, he also turned out to be a bit of a control freak.  Bizarrely, he wanted to cover "The Beautiful People," by Marilyn Manson.  We indulged this request by letting Randy take vocals while I played bass and Moose and Mark tried not to let Randy see the exasperated looks of disdain they would exchange during the song.
When Randy started taking the band a bit too seriously and suggesting that Mark and I play certain notes here and there, we realized that we were again at an important crossroads in our musical career.  Time for another rock and roll cliche:
We broke up the band.
Randy was crushed by the news, as Mark and I explained how our day to day lives had become so full and meaningful that we no longer had time for a band.  Randy was bitterly disappointed, but indicated that he understood.
Later that day we re-formed with a new bass player, but in the interests of protecting Randy's feelings (or more accurately, to weasel out of having to dismiss someone from the band), we went through the charade of breaking up.
Thankfully none of us were there to see Randy's face a few days later as he sat on his lonely corner bar stool lamenting the end of the band, when Andy, one of the bouncers, walked past him with a bass case in hand and skipped downstairs to the rehearsal room.
Andy had worked at the bar for a few months, and had dropped many a hint that should anything untoward happen to Randy, he would gamely step in and take over bass duties.  Not only did his name rhyme with his predecessor, but Andy was also big and stocky, but as white as the newly-driven snow.  Andy was equally talented with the bass, but could not care less about what the rest of us were doing at any given point in a song.  Andy was the perfect fit.
We turned the set list over a couple of times, favoring songs with lots of rhythm parts and relatively easy leads.   Mark and I would often play the exact same chords at the exact same times during our songs.  We didn't care- as long as we played along with whatever beat Moose was keeping at the time, and with Andy laying down a steady bass line, we didn't sound half bad.  Even Andy got into the act one day when we played a long slow jam and to everyone's surprise, Andy approached a mike, beckoned to us to break it down a bit, and began a long spoken word riff about a young gentleman named Clay and his experiences with an amorous Cub Scout leader.  It would later be a live staple.
I sang half the songs and Mark sang the other.  We covered The Pixies, The Sex Pistols, Lynyrd Skynyrd, Elvis Costello, Young Fresh Fellows, Ween, The Rugburns, and of course, The Rolling Stones.  If a song had a lot of barre chords, we would either table it for another day or transpose it to open chords so I could keep up.  Mark did a yeoman effort learning leads to our songs, and pretty soon we actually had a sound.  I'm not saying it was a good sound- it was just ours, ok?
Then we got a gig.  The majority owner of the bar, a tall, skinny guy from Pittsburgh with a booming voice and an aversion to subtlety, finally gave us an audition.  After telling us how badly we sucked in very expressive terms that one might expect from a sports fan from Pittsburgh, he agreed to give us a small opening slot for an upcoming show at the bar.  We would not be paid, and we would be required to change the name of the band.  "The Fuhrman Tapes" was too controversial for the bar.
The first clash between The Artists and The Man!
We sold out in a matter of seconds and changed our name to "Dutch Oven."
Capitalizing on our momentum, and to celebrate the realization that we no longer sucked, we wrote our first original song.  Truly a collaborative effort, the song was called "Dutch Oven."  It had verses, a big chorus and even a fancy pants bridge.  It would be the mark that we would leave on the world.  It was in the key of A.  It was about farting in bed.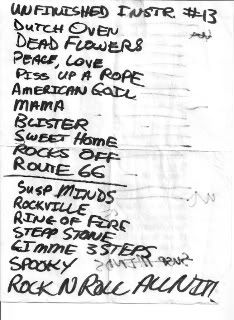 Dutch Oven set list
To get ready for our first gig, we played an after hours show for Lakeview Links employees.  Some of these employees were dating some members of the band, and with one of the bar's owners behind the drums, we understood that we were navigating fairly safe waters that first night.  But the nerves were there, just the same.  Sometimes it's harder to play in front of the people who know you than to play in front of strangers.  Strangers have no expectations.  Friends know you probably suck.
But to everyone's surprise, we didn't suck.  Quite the opposite- we nailed it.
Our 40 minute set, complete with witty between-song banter, went over like thunder.  Scratchy, de-tuned thunder, but thunder nonetheless.  Some people complimented us after the show and meant it.  They were drunk.  We didn't care.  It was surreal.
We were a band.  A real live gigging band.
We were then owner-approved to open for other bands, albeit brief 30 minute slots.   We began opening for other bands at the Links and even we even whored ourselves out for backyard parties.  At Chicago's annual Gay and Lesbian Parade, we played a backyard party at Mark's house that was immediately crashed by a gang of crazed lesbians who inexplicably loved us.  When we covered The Rugburns classic, "The Faeries Came," they danced and grooved in front of us in a wild Sapphic frenzy, as if we were Indigo Girls with y-chromosomes.
Mark and I started gigging open mic nights around the town.  We had built up some confidence and swagger and we got to know a lot of the bands playing in the area.  One night I was at another north side bar where Something for Joey were playing.  They invited me up to jam on a Stones song.  I tried to remember the faces that rock legends make when they are forcibly coaxed onstage to jam with other all-stars, but I practically leapt onto the stage to grab the guitar.
Mark was invited onstage to join The Rugburns one night at Schuba's Tavern, where nationally-recognized bands drew big crowds on a regular basis.  Mark joined them for their song "Mama," which included a very long jam during which frontman Steve Poltz mixed in two additional songs-within-the song.  Mark crushed it.  After the show, Poltz slapped Mark on the back and with a huge grin, bellowed, "You were in the pocket, dude!"  Mark looked like he had just received a Nobel Prize, looked over and said, "That's… you know."
Dutch Oven with Herbie Hancock at the AVN Awards Pre-party in Las Vegas.
Like a comet, a hanging curve, and puppy love, all great things have an arc.  Our high point came at the Belmont Street Festival the next summer.
Chicago is known for its summer street festivals.  As soon as May hits, each weekend through October, various streets in the city are closed off with a stage on each end, and the streets are lined with vendors.  The most popular vendors being those in the purveyance of beer and food.  Belmont Street's festival was near the beginning of the season and that year it featured Dread Zeppelin as the headliner.  Even then, Dread Zep had been long past their kitschy prime, but they still carried a good bit of notoriety for the way they stacked Elvis Presley songs on top of Led Zeppelin songs, sung to reggae rhythms and covered by an Elvis Presley impersonator.  Lots of airplay on MTV had made them a sentimental favorite among alternative music fans.
Lakeview Links hosted the stage at one end of the street, and a quarter mile down the road was the other stage, hosted by local station WXRT.  Theirs would be the stage on which Dread Zep would play.  At the other end of the street, Dutch Oven was given the honor of opening the whole shebang- first band to play the festival.
Or as we still describe it- we were tapped to open up for Dread Zeppelin.
Yes, that is a very fast and loose conclusion to be drawn, based on the facts at hand.  But to us the fact that Dread Zeppelin was playing 8 hours later, a quarter mile away, on another stage in the festival was of no consequence.  We played the same festival as they did, and chronologically we played before them.  Ergo, Dutch Oven opened up for Dread Zeppelin.
We were ecstatic.  We rented pastel tuxedos.
Our gig kicked off at noon and we had a forty-five minute set.  Decked out in our tuxes, we took the stage to a crowd of less than ten.  As we launched into our opener, a loosey goosey jam that we referred to as "Unfinished Instrumental #13," a homeless man ran in front of the stage and began running in violent circles with such velocity that his privates fell out of his trousers.  He didn't care, we rocked on, and he eventually fell down- a true rock and roll moment for the ages.
As we played through the first few songs, people started to gather.  It was a gorgeous day, and we played tighter than we ever had before.  We were virtually indistinguishable from any other bar band in the city of Chicago, which for us, that was all we had ever wanted.  We didn't care about being a great band- we just wanted to be good enough to be in the middle of the pack.  I still remember the look on Mark's face as we finished the last song of the set and he turned to me with a wild-eyed grin and yelled, "THAT'S WHAT I'M TALKING ABOUT!"
After the gig, as we lugged our amplifiers and guitar cases back to the bar, the crowd that had gathered for the end of the set peppered us with compliments.  Our friends were excited for us and some people we had never met mentioned specific songs we did that they enjoyed.  For the rest of the afternoon, we basked in the glory of our best set ever.
Later that night, before one of the biggest crowds Lakeview Links could hold, we tanked.  It took a little of the shine off of our earlier performance, but we shook it off and ended up playing gigs for a few more months before the band eventually evaporated.  This time, life really did intervene, as jobs, girlfriends, and relocations split the band up.  But man, was it fun while it lasted.
There's a running joke that if the number of people who said they were at Woodstock really were there, then there would have been about 50 million people at the show.  On the other side of the coin, if I were to estimate the total number of people who saw us play live, I would guess less than a thousand.  A very safe guess, mind you.  Of those, I'd say maybe half would admit it.  But I guarantee those people would have a funny story to tell.
I fell out of touch with all the crew from the Links, after spending the next ten years moving all over the world.  But in the past year, I reconnected with Mark and Moose via Facebook.  We shared some old pictures and of course rehashed stories that, like Betty White, seem to get sassier with age.
About a month ago, Mark and I were speaking on the phone.  Probably the second time in ten years.  As we discussed my new home in San Diego and his life as a family man and father, we got to talking about guitars.  Turns out we'd both kept our chops up over the years.  I had briefly played in another band, and Mark kept jamming away whenever the window opened.  When I told Mark that I had recently marked up a set list that I'd be able to play at open mic nights, he laughed and revealed he had recently done the exact same thing.
Then he said, "You know, a buddy of mine owns a bar near my house…"
We're already exchanging set lists via email.  And the bass player?  We'll figure it out.