I'm standing and painting gravestones as weird red squares, twenty yards from where the coffins of President James A. Garfield and his wife (name?) lie in the gray basement of the Garfield Monument, and I'm thinking about how much I hate my banking job.
I'm thinking about how I kinda love ATMs because they keep customers out of my bank, but at the same time how I hate loading them with cash in the mornings.
Fun Fact About ATMS (That Might Help You Pick Up Sexy People at the Bar this Week)
Twenty dollar bills come in straps of two thousand dollars. When a banker loads the ATM with twenties (or tens) in the morning, he or she needs to know exactly how much money went out the day before and how much is going in that morning. Yes, there's a printout, but the printout has to match a physical count. To make all this counting go a little quicker, the banker will take a black or red marker, pick either the left or ride side of the top edge of the bundled twenties, and scribble on a bunch of ink making sure that every bill is marked. The next bundle to be loaded is scribbled onto the opposite top edge, and this checkered pattern is repeated so that the banker can eyeball oh, say $22,000, just like that. So the next time you're at a bar and some babe or hunky dude is waving a twenty at the bartender like a lit match, you can lean over and do the whole "You see that black mark right there?" ice-breaker routine.
It's 2003.
It's late afternoon in Lakeview Cemetery and my green Civic, born mostly in 1999, has its trunk open. In the trunk is a half-can of Odorless Turpenoid to rid my brush of its colors. I squint at these gravestones and paint, and I don't really use their likeness at all.
It's my day off from the bank.
So that I can answer my phone – it's ringing – I carefully set my pallet and brush on the grass: It's Jim, the publisher of Hip Pocket.
He's out of breath.
Angry.
But there are geese in this park and the geese in this park are suddenly here and they're coming my way at a pace that make me terribly nervous.
They're honking, aiming their beaks at two o'clock and then ten o'clock and then two o'clock and then ten o'clock and they're never exactly at pointing their beaks at noon or midnight or just really right at me and I jog to the other side of my car.
I watch as the geese surround my supplies, surveying my damages to their park and to the world of art, and they're still honking.
I ask Jim to repeat himself.
"What did you do?" he repeats.
"Nothing yet."
"What? Greg, what did you do in regards to the Free Times and Scene magazine? Tell me you did not email them saying that the Gravity Games is giving us a 'boatload of money' to throw them a party next week?"
"Um, yeah. Yeah, I totally told you I was going to pitch them a story about the party."
"Well, they're threatening to sue us now. They want to sue us."
"Who?"
All ten or fifteen of the geese turn in unison, flap their wings, and walk away.
"Octagon, the guys who run the Gravity Games for one," Jim says. "Now tell me. Did you email Scene and Free Times saying that we're throwing a party for the Gravity Games' athletes?"
"I just said I did, man. I asked you if that was cool, remember? If I could freelance the thing since I wasn't getting paid at all by you and the magazine I edit and write for. I totally asked you if that was cool."
I totally did.
"Okay, but the Gravity Games and Octagon aren't giving us any money, Greg. SoBe, the drink company, the company that make those drinks, is sponsoring that party that we're putting together. For the SoBe athletes. Not for the Gravity Games. For SoBe's."
"What? Really?" I ask. Cars slide past my Civic and I start to wonder if I should have parked more in the grass. "Jim, dude, I asked you guys – you, Ryan, and Matt – what was going on with this party and every time I repeated back what I thought I heard, you guys said that's what was going on. I don't understand why we're getting sued. What the fuck does that mean?"
"You have to write a letter of retraction immediately saying that you were not offered a 'boatload of money' by Octagon," Jim says. "Like as soon as you can."
"What the fuck? A letter of retraction? A letter?"
At that exact moment, dressed in these shitty jeans and in this blue shirt I didn't care if I got paint on, I am the sole editor of the Hip Pocket Entertainment Guide, a pocket-sized entertainment guide for Cleveland that was supposed to be hip.
I will go on record to say that its size meant that it could fit mostly in one's pocket, but it wasn't really very hip. Inside the nice covers you find canned articles about the show "Friends" and canned articles on shit like digital alcohol breath testers. Half-assed restaurant and bar directories. Two-hundred-word features on local artists and bands. Horoscopes by someone calling herself Moon Angel.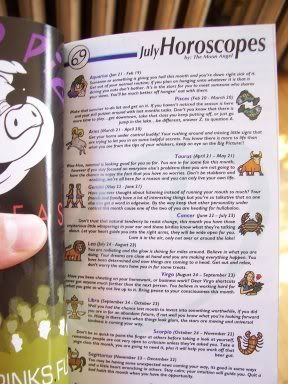 Or maybe Moon Angel was a guy, I never knew.
Appropriate Times the Phrase or Name "Moon Angel" Can Be Used
As the name of a junior high light-rock band

As the title of a poem written in junior high about an astronaut on a mission to the moon who is in love with a woman waiting for him back on Earth but then the astronaut dies as soon as his foot touches the moon and the woman finds out when she's at Sears buying him an electric razor and happens to walk by the TV section of the store where all the TVs are simultaneously playing the same newscast of the astronaut's untimely, and totally expensive, death

As a character's name in a Chuck Palahniuk novel
Hip Pocket also includes a crossword puzzle, write-ups for restaurants and bars who advertised (for free) in the same issue, one of those pages that have a collage of pictures of people out drinking and dancing at a bar that is advertised (for free) in the same issue…
… And there is a blank calendar of whatever month that issue came out, and tons of free advertisements for alcohol because the graphic designer works full time for the local Miller Lite distributor.
Magazines and me.
I have a history for being a part of magazines that don't last.
In like an editing or contributor writer role.
Where the magazine lasts three-to-five issues before the publisher sees a quick pattern in their account balance.
Then the magazine goes online.
Solely online.
And then people stop emailing each other back.
And then there's just never another issue.
And my time with Hip Pocket, a magazine that had the technical side down pat but who completely shot themselves in the foot with a cannonball when it came to content, is one of those forgotten magazines.
I saw my first Hip Pocket Entertainment Guide at the record shop.
I thought it looked sharp.
Eye catching.
Grabbable.
Pocket… able.
The cover was all shiny and it showed a drawing by the rock-and-roll artist, Derek Hess.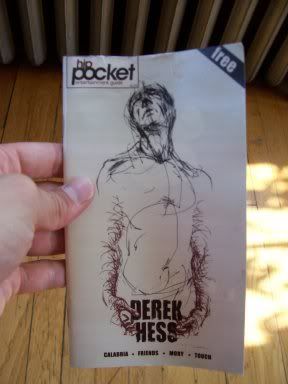 But as I flipped through it I said "no-no-no," reading paragraphs with misspellings and grammatical errors and bullshit and suddenly I believed that I was destined to come across this pocket-sized guide with minimal potential and save it.
To fucking save it.
To fucking turn it around.
To take it to the masses and create a movement with it.
As if it was a bundle of twenties about to go into an ATM, I took out a thick black marker and scribbled all over the cover. Right there standing in the record shop next to the free zines and newsletters and bookmarks.
Then I went home and put Xs through whole pages, writing frantic notes with illegible handwriting. Question marks came in threes and fours. I digested the entire thing and then I dissected it. And then I went to the library and wrote an email to the publisher.
I panicked. I wrote an impassioned synopsis of my writing history and then immediately transitioned into staccato diatribe on the amount of mistakes I found in his first issue. I told him I could edit his magazine. I told him that he needed me onboard to help right this ship (I don't know why I keep using all these boating and ship references, especially since they keep getting me in trouble; I'm a terrible water skier for one, I have a hard time catching fish and baiting hooks; I don't even think I know how to turn on a boat, and hell I never got to experience that moment in a boy's life where the captain of a boat I'm riding in says that maybe I should take over the wheel for a bit and to just aim for the shore on the horizon and to not go too fast because he doesn't have that much insurance, ha ha ha, for me to be so enamored with boats).
Jim answered my third email and said I could come to his place on West Street for the magazine's next meeting.
In my notebook, while I waited in my car outside the house because I was twenty minutes early, I wrote down obvious observations of the street ahead of me.
My first assignment was to interview a Cleveland band who called themselves Dirt.
I drove downtown with my notebook and two pens, stopping and going past the beautiful Cleveland Clinic campus and crumbling buildings on Euclid Avenue.
It's happening, I thought.
My days of being a banker and selling home equity lines of credit and second mortgages were numbered, but then I thought that maybe my days at Hip Pocket are too: Before leaving that first meeting, I asked the group of Jim and Ryan and Matt and Jim's girlfriend "Who the hell is this 'Nava Locke' writer we have writing for us? She's absolutely terrible. Her review on Moby was laughable and fucking trite and full of an unbelievable amount of grammatical errors."
After a few moments of silence, Jim said that was his girlfriend's pseudonym.
Jim's girlfriend, sitting at the end of the table, looked down.
But after turning in my rawking article on Dirt, a band who had me believing that they were on the same brink of stardom that I was on, I was suddenly the next issue's editor. I worked with Jim, the publisher whose money backed the whole venture, his writing live-in girlfriend, a cool Matt guy who did the graphics and layout and Ryan, the ad sales guy who never seemed to sell an ad.
And now here I am, standing in a cemetery two issues later being told that I or we or somebody could be sued because I pitched a story with bad information.
What Octagon Would Have Gotten if They Sued Me in 2003
All the Beck albums

Half of a sectional couch

My older brother's 10 GB eMachine desktop

"Goonies" VHS tape in one of those oversized Disney plastic covers that don't fit properly on your shelf so you have to lay it on its side which then just ruins the whole aesthetic of what you were trying to do

Decent bedroom set

Piles of Hip Pocket magazines not distributed

Rug
Jim, still on the other end of the phone, tells me again what I need to do to rectify the situation, repeating the phrase "letter of retraction" over and over like he was trying to hypnotize me into seeing a movie with him about legal documentation.
I pour Odorless Turpenoid over my brush and wipe down its clumped hairs with a stained handkerchief.
"And Greg. Why the hell would you say a 'boatload of money'?" He asks. "What would make you say something like that?"
"This is so stupid," I say, looking down at the geese. They're back and they're a little less hostile. "Jim, man, I asked you guys several times how much money we were getting for this party thing and you guys kept saying 'tons' so I was just spicing it up, I guess. I told you what I was doing, about freelancing the story to either of those papers, and you said you were cool with it. I asked you guys like three times what the party was all about and all I heard is that it was for the Gravity Games' athletes. " I check my watch. "I'll have to go to the library to use the Internet. Give me a half hour."
"Good. Do it as soon as you can and cc me. I emailed you what they sent me and so just email the letter of retraction to the woman at Octagon and to the editors of Scene and the Free Times. And don't forget to cc me."
I pack up my car, easing the easel through the trunk and over the back seats that I had folded down. The painting rests on a bed of newspaper and I go over and over a scene in my head how I would kick in the kitchen divider and confront the whole magazine staff at the next meeting.
Sitting on the creaky wooden chair in the Cleveland Heights Library, I read the emails Jim forwarded me. The editors of the alternative free weeklies sure are upset – way too upset for just receiving a pitch from some unknown writer just looking to make some money with his writing since the magazine he saw as a boat wasn't paying him dick – and wondering who this Greg Boose was and how his piddly little start-up magazine was so hooked up with the Gravity Games. There is an email in the string from Jim apologizing, playing dumb and angry, promising that he would handle it. And then there is an email from this Octagon company saying that they've never heard of me or this party and that they would be contacting Hip Pocket.
"LETTER OF RETRACTION" read the subject of the email.
I write to everyone I am supposed to, cc-ing Jim, apologizing and explaining that I was misinformed and that the company backing the Gravity Games was not financing a party to be thrown by the Hip Pocket. "We will not be receiving a boatload of money."
Before sending it, I write about how Hip Pocket operates with little communication and how the magazine business is nothing how I thought it would be like. I write that I was disgusted by how almost all of the articles we wrote were features on the restaurants, bars, and events that advertised with us (for free). How the bands we covered were friends of staffers. How the publisher's girlfriend snuck in a story about July 4th in the second issue that started off with this sentence: "In the history of Cleveland, related to Independence Day, we certainly do have a good time on the 4th of July." How only three out of the nine people showed up to a meeting I put together last weekend downtown. How great I felt in college when I had something published and some girl approached me at the bar to say that she read my column that week and that my picture was too dark.
I delete all my complaints before pressing SEND, but I keep them on my tongue for anyone who engages me in conversation for the rest of the week, and I hold onto them for whenever I tell the story about how I was almost sued while writing for a shitty magazine in Cleveland.
EPILOGUE: I quit the Hip Pocket two issues later after Jim told me he found this high school girl to cover concerts for us. He said he was going to pay her, too. Because he never paid me, and I was the editor and a writer, I had to quit. The magazine never printed another issue.