Chicago has an annual celebration of print literature called Printers' Ball.
It's a free event where a 100 or so lit organizations come together to showcase their weeklies, monthlies, yearlies, books, posters, horn-rimmed glasses, shaggy haircuts and zines. There's also live entertainment and lectures and films and readings.
Sounds like a great night to me, really.
Totally something I'd want to immerse myself in.
But what really got my juices flowing was that I thought this would be a great opportunity to print up a bunch of copies of my unpublished humor book and talk to some independent publishers from the area about my chances of getting the thing out there.
Out there, out there.
I Googled and called all the commercial printers in the Loop, looking for the cheapest place to print up 10 copies of my humor collection.
Kinko's ended up being the place for me to go, and so I converted the document into a .pdf and emailed it off the morning of the event.
Cost me $95.something
And after I picked up my 10 bound copies, I found a bench and carefully inserted a biography and something funny about hoping the book gets published by the holder of the copy. I paperclipped it in there with one of my cards and slipped them all into my backpack.
I hit the pavement, dreaming up scenarios during my walk where there's introductions and publishers flipping through my book who nod and laugh and point to a certain story inside with a held breath. Then there's a bidding war right there among 10 different publishers who are now waving my manuscript above their heads in unison, throwing out dollar figures and marketing funds and where they want me to pose for my author photo.
It'd be like the NYSE floor, but these brokers have scruffy beards and wear ironic tees and I'm the surprise stock that's about to issue a ridiculously high IPO.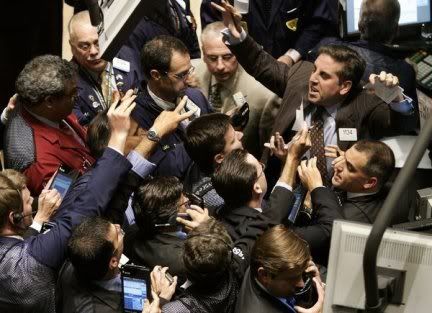 I arrive early.
Too early.
I go to a hotel bar and have a couple beers and watch the Cubs get smashed.
Then I'm waiting outside the Museum of Contemporary Art with a bunch of literary folk. My backpack is on my back. Inside is some of the best writing I've ever done. And it's illustrated by my buddy Chris Simmons in Cincinnati.
Here are a few of his illustrations that show up in my book: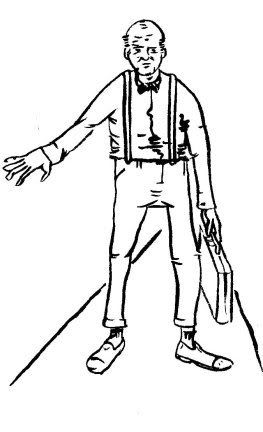 The doors finally open and I swirl around the lobby, picking up buttons and zines, examining bookmarks and stickers, watching people and my shoes. Upstairs is where all the magazine and book publishers are supposed to be, and they haven't opened it up yet.
Backpacks aren't allowed upstairs, so I have to check it. I remove the copies of my book, feeling suddenly exposed as an unpublished dolt who is working his last angle.
I'm practicing my little spiel, my pitch, as I finally ascend the stairs.
And when I get to the top step, eager to see table upon table covered in indie publications like a job fair in my own personal heaven, I see stacks of magazines lining the wall.
Cool, I think.
Some of the publications have just set out their shit for people to pick up before they get to the main room.
But I'm in a hurry to do this – my brother and sister-in-law have just flown in from Cleveland and are waiting at my apartment with my wife – and so I bypass all these magazines and hit the main room.
More… more magazines and books line the walls in the main room.
I turn left down a wide hall.
More of the same.
Hundreds of periodicals just sitting along the floorboards.
Where are the tables with the publishers standing behind them?
I keep moving, but I come to the last room that has a band setting up. The only tables I see offer free chips and Chicago-style hot dogs, not publishing contracts and handshakes.
I walk in circles.
The place is now full with hundreds of butts in the air as their owners are reaching down for another music magazine or book of poetry.
A little pissed now, I ask a couple people if they've been to this event in the past and were there tables or booths set up.
They said that yes, there were in the past.
Damn.
It's now past the time I wanted to be there, so I do the only thing I can think of and un-armpit my 10 books, setting them among the masses.
I backpedal toward the middle of the room, keeping my eyes on the thing I was hoping to sell which I am now setting out for free like an unemployed zinester who loves bicycles and postcards more than showers.
Defeated, I feel.
A twenty-something girl picks up a copy and sets it back down.
Sweet.
Great.
A few others pick it up with only one person taking it with her.
Nine to go.
An older woman swings by, bends down and grabs a copy without giving it a look, stuffing it into her huge plastic bag of other free shit.
Eight to go.
Five minutes later I'm down to five.
But the old lady from before with the full plastic bag comes back. She stops at the magazine pile next to my books and pulls out the plain white pieces of paper that separate the different issues. Weird. Why would she want sheets of plain paper, too? Then she shuffles to her right and grabs two more of my books – which is really just a bunch of plain white paper with text and illustrations on it, bound – and walks away.
Fuck, I think. Is she… Is she looking for recycling paper?
Is she going to unbind my book and recycle it?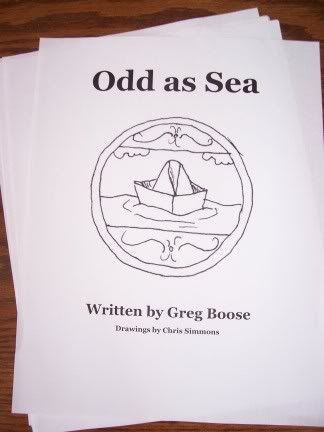 I follow her.
She moves fast for being over 65.
I close in with my right arm raised and my best shoulder-tapping finger extended.
I'm a step behind, about to tell her that she's going to have to give those two books back to me plus the one she grabbed before, that she can't recycle my hard work or take it home for her granddaughters to color on, that even if she's not going to recycle my hard work she's not really my audience because I have things in there about nudists and starving dogs and AC/DC and html codes and racists waiting in line to berate James Frey and other possibly offensive pieces, that those books are for owners of small presses with deep pockets, but I don't make it in time.
She's already handing the other two copies to her friends who are equal in age. One of these ladies takes my flimsy book and crushes it into her overflowing backpack (wait, how come she was allowed to bring up a backpack?) and the other takes her copy without even looking at it.
I stop and give up on it, telling myself that there's a chance that these three are the editors of some press, or that their kids or grandchildren are, and that I didn't just lose 20 bucks in 10 seconds.
There are three copies left to babysit, but I decide it's best to leave.
I'd rather think that somebody important might have grabbed one and that person is slapping their knees right now reading it and already thinking up a pitch, a spiel, to email me.
I'd rather have that hope than watch someone crinkle it up and shove it in their bag among a dozen magazines they just blindly picked up off the floor.