This is the second chapter following, well, the first chapter I posted in July: In the Beginning There Was an Unpaid Editing Job in Cleveland, a Potential Lawsuit, and a Bunch of Unprovoked Angry Geese
(Short breakdown of the above: I'm writing and editing a totally shitty magazine in Cleveland, The Hip Pocket, which is run by a team of amateurs in 2003. I was almost sued because I said my magazine was to receive a "boatload of money" from the Gravity Games to throw a party for their athletes and I had to write a Letter of Retraction to cover my ass. Our next cover story was to cover the Gravity Games story.)
At 1:05 pm, I stand on the 9th Street Pier watching toned women practice their wakeboarding routines, and I write in my folded-over notebook: "What am I doing here? They gave me a press pass, a parking pass and a lot of blank stares."
My media pass, showing the number four under my name which means that I have the tiniest amount of press access possible to the facilities and athletes at the Gravity Games, hangs around my neck and I am convinced that it makes me look important.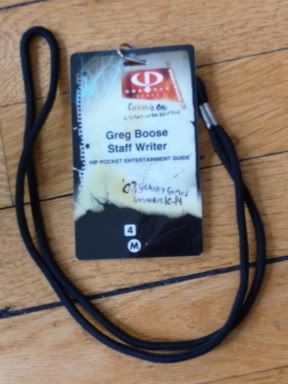 Like a bouncer.
Or a pilot.
Or a karate instructor conducting class in a street window.
Every time I crack my notebook to jot something down, these beautiful athletes surrounding me in their small bikinis that show wonderful amounts of side-cleavage, crane their tan necks wondering what I'm documenting and who I'm writing for.
Am I with Sports Illustrated, or am I with some extreme sports magazine that might ask them a few questions about how they're enjoying Cleveland so far or how they think they'll do in the competition tomorrow or who their biggest threat is, or I am I with a magazine called Hip Pocket that has only put out five issues so far in a limited distribution circle that will only last one more issue – the Fashion Issue – because this writer will be standing in his small one-bedroom apartment next month telling Jim, the publisher, that he's losing his excitement over the magazine because he still feels left out in the cold and unappreciated and because Jim just finished saying he knew a 13-year-old girl who could "really write" and who would be covering a concert coming up which the magazine would pay her for even though this writer in front of you on this pier, who has just quit his job at the bank because he was dry heaving in his office in the mornings when he thought of what the day would bring, hasn't been paid a fucking dime and has driven all over Cleveland interviewing restaurant managers who don't even feed him free food like he thought they would?
Nervous, I thumb my media guide.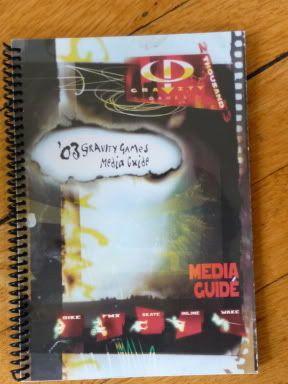 It has a glossary in the back defining crazy extreme sports words and phrases like: chicken salad air, Iguana air, fat, ho ho, misty flip, butter slide, mashed potato, Japan, nothing, Pornstar, stalefish air, rocket air, poptart, shove it, mcEgg, alley-oop soul, air to fakie.
To look busy, I write some of my own words and phrases related to my Gravity Games and Hip Pocket experience in the margins of the glossary, making sure that they are in alphabetical order. Here they are, along with their definitions:
B
boxed out – Originated from basketball, the action of driving toward a sweet parking spot in order to report on wakeboarding only to have some guy in a Mountain Dew SUV block your path while a sleeveless man on a motorcycle steals the sweet parking spot.
boatload-of-money – 1. A measurement of cash to be given to a start-up magazine to help with party preparations. Mentioning such an amount will often result in a huge overreaction by asshole editors who hate to see young men work hard to get their writing careers off the ground. Often followed by a Letter of Retraction. 2. Should be covered with a tarp during sea voyage.
D
dime spin – Where the writer stops immediately to turn around when a hot wakeboarding chick wearing sunglasses walks past.
G
Grilled Jamaican Jerk Chicken with Coconut Rice – An item from Riverwalk Cafe's menu that was not offered to the writer who spent two hours on their back patio making notes and asking the manager questions for an upcoming feature.
Grog Shop – Rock venue in Cleveland Heights whose owner was too cool to return any of my calls most probably because I wrote for a magazine that she's never heard of, or for one that she has seen and thought wasn't worth her time.
J
jackets and boots – Answer given by the owner of the boutique clothing store, Nabici Collection, when asked what he thought would be in style that Fall.
N
Nava Locke – Pseudonym of publisher's girlfriend who writes cringe-worthy sentences e.g. "Tori Amos can steal hearts with her music, but it takes an eccentric and unique taste to take a liking to her and her music" and "Freedom is something we all cherish deeply, it is the root of our sole purpose for being here in this country, and we are damn proud of that" and "Many people have been listening to Moby for a long time, in fact many years" and …
S
shad – Short for "shadow" where an unemployed 23-year-old hides during a media day to feel sorry for himself and draws two-dimensional skateboards with rockets for wheels.
U
Undercover – Page in Hip Pocket that appears to have 15 pictures of random Cleveland bar hoppers but always has at least one picture of our VP Sales/Marketing guy, one of our Design guy, and many of their sweaty friends hugging.
W
wallet air – The rear hand grabs the wallet out of the back pocket for a corndog or slice of pizza, but opens it up to find jack shit because this editing position has yet to pay even though I thought it would have by now. The front hand wipes away tears.
I close my media guide and watch a band I detest (Hoobastank) going through its sound check.
I'm alone, sitting in the grass.
Watching photographers zip by on the back of golf carts.
Watching organizers stay on the sidewalks with walkie talkies in their faces.
Watching men climb the stage's scaffolding with ropes attached to their belts.
Thinking that these shorts I'm wearing should be retired after today because the grease or oil stain in the crotch looks like a permanent piss mark.
Grad school, I think.
Apply to grad school and really do something with your writing instead of faking like you're a reporter for a respectable magazine that people recognize.
I walk past the Free Times booth behind the Science Center and wince, thinking about the lawsuit scare just the month before.
At grad school, I think, I'll learn how to pitch free alternative weeklies like a pro. I'll learn about Letters of Retraction and writer's rights, slander and libel, how to correctly cover an event like this, how to write a screenplay.
Overhead a plane zooms high, its red lights on its wings looking like a colon rushing toward a faraway sentence.