This is the third chapter in my ongoing story of how I started writing semi-professionally and all the ridiculous mistakes I've made along the way.
The first segment revolved around me scoring an editing gig for a totally shitty magazine and almost getting sued: In the Beginning There Was an Unpaid Editing Job in Cleveland, a Potential Lawsuit, and a Bunch of Unprovoked Angry Geese.
The second installment had me milling around the (X-Games-like) Gravity Games on the 9th Street Pier in Cleveland, taking notes and feeling sorry for myself: Rewriting a Media Guide Is Easier When You're Both Lonely and Looking Important.
Ahem.
Part III.
With my grad school applications out there being read by men with facial hair and by women wearing cardigan sweaters sitting in their university offices where a few dozen copies of their rarely bought book sit on their bottom shelf, I hedge my bets and interview for a marketing position with Alternative Press. AP is a highly regarded music magazine for those who enjoy indie, alternative, ska, punk, rock, and techno, among other rock factions and infractions, and it could be Cleveland's farthest-reaching publication at the moment. Personally, I didn't really care for any of the musicians that grimace on their covers, but respect the magazine for its success.
Armed with my resume and portfolio of undergrad newspaper clippings and the last issue of Hip Pocket, I meet with the publisher, Mike Shea, and a very serious and stylish woman with short platinum hair.

Kinda like Brigitte Nielsen with glasses, but not so top-heavy.
If I remember correctly.
"Right now in my free time I'm the editor for this new Cleveland entertainment guide, Hip Pocket," I say, passing him the Gravity Games issue.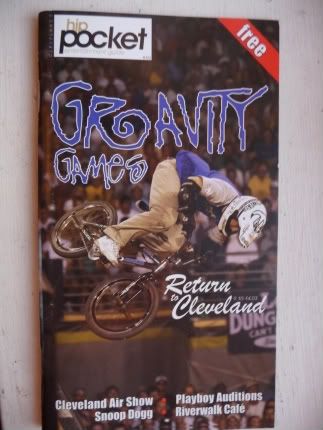 "Yeah, I've seen this around," Mike says, leaning back in a chair behind his desk, not at all hiding the fact that he is unimpressed with the little glossy. "I always pick up new publications I see."
Trying to save face because I'm also aware that Hip Pocket is a piece of shit: "I just came on two months ago to try to turn it around, so hopefully my changes will be apparent soon."
The interview continues at a fine, sweaty pace, but it becomes apparent after a while that I'm not a match for this position they are creating which entails traveling to different cities to get advertising for the magazine.
Before I leave I mention that I know a couple of his AP writers from college and that I am always looking for new writing opportunities as well.
Mike politely shakes my hand and says he will be in touch.
That night, sitting on the floor of my one-bedroom apartment on the fourth floor, listening to the wind rattle every one of my windows as if they each had caught the tails of rats who refused to go quietly into the night, I make a thank you card for Mike Shea that I think is both funny and creative: At the Gravity Games I saw the hip hopper Wyclef Jean in the crowd and I got my picture taken with him.
I take that picture, cut a word bubble out of a piece of computer paper, and tape it next to Wyclef's mouth.
In the word bubble, I write: "Hey Mike, thanks for interviewing my man, Greg Boose. He hopes you call him back soon. Peace."
I mail it out the next day, basking in my "being different."
Weeks pass and I never hear from Mike or the platinum blonde.
I consider following up with him through email, but am crippled with embarrassment over my thank you card.
What was I thinking?, I'm thinking.
I picture it on the company's fridge in the break room, held there with some magnetic poetry that reads:
STARE AT HIM
SHOULD BE RUN OVER
I imagine it's giggled at and even mentioned in the subject lines of emails among AP employees.
I imagine it's mentioned by Mike at the end of every interview he conducts for the rest of his life: "Let me just say before you go that, although I very much appreciate creativity, don't go overboard and send me some sort of thank you card that makes you look… well, unprofessional and that you're trying too hard. This one guy I interviewed – who didn't get the job, never had the chance to – sent me a picture of himself with his arm around the shoulders of a half-naked Wyclef Jean. He taped a word bubble to it, pleading that I hire him. You can see it for yourself on the fridge on your way out. Anyhow, thank you for your time and I'll be contacting you later this week barring any move as stupid that."
I see Mike a month or so later at a Cleveland Heights bar, B-Side.
He's leaning against the wall talking to someone.
I'm drunk.
I feel my always-suppressed rage percolating.
I step toward him, intent on asking if he got my Wyclef card and why he wouldn't want to work with a guy who was obviously so fucking zany and creative that his potential was through the roof, but instead I go home and make some nachos in the microwave.