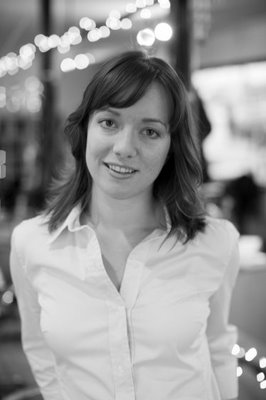 The first time I met Amelia Gray was at the release party for Scorch Atlas (Featherproof) by Blake Butler, here in Chicago. Amelia read "Go For It and Raise Hell" and I knew immediately after her reading that I was going to be a fan of her work. I picked up a copy of AM/PM (Featherproof) after the show and read it the next week. The following year when I went to AWP Denver, and had the chance to hear her read again, she apologized that she was going to be reading "Go For It and Raise Hell" again, but to me, it was like going to see a rock band you love, and hearing your favorite song. I knew what was coming, and that her reading, her performance, would be epic. Imagine:

"Carl is coated in the filth of the world. He sees that you never know what is enough until you know what is more than enough."
The second time I met Amelia Gray was the very next night. I did a Quickies! reading with her and many other talented voices at the Innertown Pub. She read several snippets, threats scribbled on slips of paper, that she hurled at the floor in a flourish of disgust and satisfaction, a mix of disturbing imagery and hilarious innuendo. Consider:
"My truth is a sucking chest wound. The field doctor will apply a makeshift occlusive patch crafted from cellophane, aluminum foil, and duct tape. You are far from home."
This was my introduction to her work – the southern transgressive fiction of raising hell, busty waitresses and Carl; the elusive but connected couples and their touching stories in AM/PM; and the violent and sparkling eyes of a young woman possessed and ready to exact revenge. I was hooked.
So when Museum of the Weird came out (winner of the FC2s American Book Review/Ronald Sukenick Innovative Fiction Prize) I knew I had to pick it up. Several of the stories I had read before, so it was like hooking up with an old friend, albeit a friend that likes to saw off her own toes to make a stew, the idea of eating human tongues sautéed in buttermilk not quite enough to satisfy her cannibalistic foodie needs. The collection is indeed a grouping of curiosities, but instead of a cabinet, these are human lives we're looking at, peering in the bars at the monkey house, unsure of what manner of horror or surreal juxtaposition will happen next. For example:

"One morning, I woke to discover I had given birth overnight."
Instead of a standard interview, I decided to go back and look over her work from the last couple of years and give her a series of prompts, 101 to be exact, to see what she had to say about her work, her fellow authors, and the issues of the day. Here are the results.
Thank you Amelia for your time and your thoughtful, entertaining responses.
001. Arizona
The red license plates were better.
002. Kristina Born
Smoldering cake pile.
003. AM/PM
Dish of Werther's Original.
004. Hot dogs
Who hasn't eaten a hot dog? Bring them to me.
005. Blake Butler
@BlakeeBHavnfun.
006. Museum of the Weird
Hard-boiled eggs.
007. EWN
A factory that produces only hugs.
008. MFA/No MFA
News flash, you're going to die either way.
009. Five Things
Every time we do one I feel like a mom and it's my mom birthday.
010. "The Pit"
Is it easier or harder to love someone in a pit.
011. HTMLGIANT
If this website wanted me to sign its high school yearbook I'd write "2good + 2b = 4gotten".
012. Grape-Nuts
Even though they are probably scraped waste from the All-Bran machine, Grape-Nuts remain chief.
013. "Waste"
Keep wanting to read this to a crowd and deciding it's too gross.
014. Jac Jemc
Smells good and is a lady.
015. Farmville
Fuck Farmville.
016. Handjobs
The frozen food of sex acts.
017. Aaron Burch
Snack Pack.
018. Wesley Willis
Too soon.
019. Chevy Camaro Iroc-Z
If I had one I would crash it for fun.
020. Kyle Beachy
Beat me at arm wrestling once but I been practicing.
021. Halloween
My favorite day to stay home.
022. Raton Pass
Considered driving through there last week but sense kicked in.
023. Laura Owen
Was a boss when I met her in Academic Decathlon remains a boss to this day.
024. Threats
I keep looking at this picture of nuggets.
025. Lindsay Hunter
If there ever was a bucket of candy wrapped in a spangled vest.
026. Rob Lowe
Rob Lowe movies Rob Lowe action Rob Lowe kitchen Rob Lowe crying Rob Lowe eyes.
027. Your first novel
What about it?
028. Austin
Feels gorgeous now but it's a trap.
029. Twitter
@grayamelia.
030. Mary Hamilton
Coming to visit for Halloween we're gonna stay at the Radisson.
031. Taco Bell
Saw a kid doing tricks on his fixie outside the 'Bell tonight.
032. Touring
Seems like the easiest way to see people.
033. Matthew Simmons
Ate corned beef hash with the man.
034. Cotton candy
Don't need 150 pounds of it that's for god damn sure.
035. Kickstarter
Saved my summer.
036. SXSW
Brief glimpses of enjoying it mixed with wide swaths of pretending to enjoy it.
037. Mood clothes
My mood: wondering if people are wearing mood clothes.
038. Michael Kimball
My landlord's brother-in-law.
039. Dunkin' Donuts
The only days I didn't skip Sunday School was when I knew there'd be Munchkins.
040. ASU
A cereal store where you can buy an individual bowl of cereal like a chump.
041. Owen Egerton
Was a one-man show before getting a one-man show.
042. John Mayer concert tee
John Mayer just quit Twitter.
043. Greyhound buses
Cheaper than an MFA.
044. Lit vs. commercial
Relationships have suffered over the distinction, whatever it is.
045. Quickies!
Fun!
046. TSU
Spent some time curled up on the top of a desk trying not to vomit.
047. Sean Lovelace
Glowface.
048. Armadillos
Don't cross the street guys it's not a good plan.
049. Night terrors
Last night I woke sitting at the foot of the bed .
050. Shane Jones
Hopefully he and Melanie got some time to be in the backyard this year .
051. Wunderkammer
Your body is a wunderkammer.
052. LDM
Show machine.
053. Featherproof
True friends and book wizards.
054. William Walsh
Makes a great gift.
055. Javelinas
Combo of cute and terrifying.
056. Sleepingfish
Issue #8.
057. Tom Grimes
Talked me through some crises.
058. Human tongue sautéed in buttermilk
We've all seen better days and worse too.
059. Hobart
Machine or magazine? Yes.
060. Molly Gaudry

Preparing to level the East Coast.
061. Plate of hair
Ungarnished.
062. PANK
Many good links lead to PANK.
063. Kyle Minor

Heavyweight champion of the world.
064. Cottage cheese
There's some in my fridge, I'm going to eat it so fast.
065. Annalemma
Gorgeous x3.
066. Sam Pink

I like Sam Pink.
067. Trichobezoar
There's a secret to arm wrestling and I have forgotten it.
068. Keyhole
Taught from the Digest this summer.
069. Matt Bell
Has been so nice to me.
070. Juked
Squirrel respect.
071. Kevin Sampsell

Ate a steak bit with him once.
072. Ronald Reagan
Yesterday I said "I think Ronald Reagan was handsome" and my friend said "not the fifties Reagan, the President Reagan" and I said "I thought the President Reagan was handsome too" and this story was not worth typing.
073. Monkeybicycle
Tiny cymbal hands.
074. Mary Miller

Read with her last night, find her just ducky.
075. Snake farms
They are out there and they are full of snakes.
076. Caketrain
I picture some kids with baseball caps over their hearts.
077. Lydia Davis
Has me checking for cockroaches.

078. Paring knives
I have one, it's quite sharp.
079. Pear Noir
Reviewed their last on my blog.
080. Miranda July
I wonder if she's eating a sandwich right now.

081. Vultures
Turns out there's a lot of carrion in West Texas.
082. Dzanc
Best of the Web.
083. Benjamin Percy
There's a reason why I was looking at Benjamin Percy's website before.

084. Facebook
"No artwork created by someone with a healthy grasp of social media thus far has proven to be anything other than disposable." –John Mayer
085. P.O.D.
P.O.D. is an American Christian Metal band formed in 1992.
086. FC2
If it were a person it would find an innovative way to brush its teeth in the morning.
087. Brian Evenson
Three of his books on my shelf. One's gnawing itself.

088. Ebooks
If you're into that sort of thing.
089. AWP
Baby bottle full of whiskey.
090. Barry Hannah

The kind of guy who would be happy enough with a gun and a dog.
091. Nobody reads
Well whatever then.
092. Squirrels
Life's too long for self-loathing.
093. Rikki Ducornet

If she's not on your radar, buy a new radar device.

094. Lit vs. genre
Whole relationships, down the toilet.
095. Lemons
When life hands you lemons, spend four hours reading about lemons on the internet and then go to bed.
096. DFW
Someone write a doxology about that man.

097. Quiche
I make a bad quiche.
098. JSF
You know I bet he slices a tomato real thin.
099. Zach Dodson
Mails me words to read.

100. Goodreads
Haven't logged on in a while.
101. "Go For It and Raise Hell"
Good advice.