Wifey's from Twin Lakes, Wisconsin.  My college roomie and long time business partner is from Wausau, WI, married to a biomedical engineer and patent lawyer who was also a good college friend, hailing from Sault Saint Marie, MI.  Another college roomie, the first guy I ever heard ranting against the Electoral College when Clinton won in '92, was from Menomonee.  A manager I've worked closely with at Sun Microsystems is from Shano, WI (draw that "o" out, will ya?).
Wifey cold kicked the Great Lakes accent ages ago, but as for any one of the others, all it takes is enough Blatz beer or something else similarly awful and they kick into that fascinating intonation, kinda like if you cross-bred a Norwegian and a Scot with someone born within fifty furlongs of the Mason-Dixon line, then stuffed the chimera's voice into a deep well.
I've certainly never minded the accent, considering all these people, and many more from my college days in Milwaukee are very intelligent and eminently sensible, even the occasional punter who looked earnestly into my eyes to say "you know, you're the only black person whom I've ever had a proper conversation with."  I'm down with being the Olaudah Equiano of parts nort' don't ya know-oh.
So then a few months ago Sarah Palin came along and scrambled all the associations I had with that accent (my first reaction was: What's with the patter? Isn't she supposed to be from Alaska?)  Spouting a bewildering medley of sense, silliness, and savagery, she's been good for laughs as well as fury.  I'm reasonably confident that after today she'll begin coasting towards Trivial Pursuit 2050 edition, so here, in honor of everyone who got a shout-out in my first paragraph, is a Palin send-off.
She emerged to all that fanfare, and the media pretty much had no idea what to make of her.  My wife has worked pretty hard for Obama this cycle, and she was worried.  "Will she pull Hillary women?"  For my part, I never believed for an instant that she would be anything but a net negative.  With all the talk about her first two speeches, once I got past the accent, listening carefully, I found her cadence a real mess.  The faithful will ignore that sort of thing but for the general populace it matters to a surprising extent.  Even Dubya was surprisingly on-pitch in prepared statements.  It's just when he tries to use his own brain cells that he chomps his own tongue.  In terms of presentation, Palin was ever the ticking timebomb.  Katie Couric lit the fuse, and Tina Fey kept the bombs bursting on air.  So much for McCain's clever gambit.
The tangy irony in all this is that Palin's negatives plummeted among women much more steeply than among men.  So much for the theory that women wouldn't be able to tell her from Hillary.  As if it all wasn't Alice-in-Wonderland enough, the Palinistas cooked up a game of "sexist…1-2-3…NOT IT!"  "Lipstick on a Pig" became the 2008 equivalent of Clarence Thomas wailing "high tech lynching" or Alan Keyes claiming racist exclusion by the media.  Sure, every unoriginal git was smirking about "Caribou Barbie" and "Bible Spice", and to be fair, that latter epithet probably does go way too far.  Palin can nowhere near hold a candle to the Victoria Adams super-pout, nor the Geri Halliwell booty-bend.
I'm not even trying to hate, though, because I respect Palin's ghetto lean.  Republicans came knocking on her door, promising her stardom and power.  Two weeks later and she's like straight-up B*A*P*S.  Are you kidding me?  American Express Black Card trip to Nieman Marcus? You'd best believe she was loading up on shit she can't pronounce.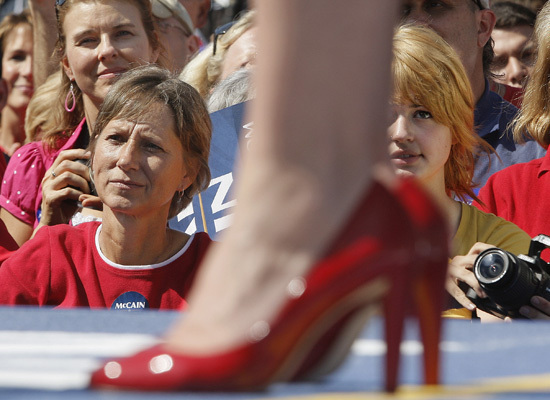 (Hazy Palin pumps)
Palin Pumps
(I'd say "With apologies to Amy Winehouse", but she's off pissed or otherwise wasted somewhere and well oblivious to offense.)
Without girls like you
There'd be no fun
We'd be missing out on "Annie Get your Gun"
Without girls like you
No late night jokes
We talk policy with all those boring folks.
When you walk on the stump
And you're dressed like a Trump
Rocking your F– me pumps.
And the men notice you
And your Gucci bag too
Voting for the five figure hair do.
But you're a pawn in the game
Everyone knows your name,
And that's your whole claim to fame.
Never miss a fight
'Cause you dream in life,
To be White House first dude's wife.
You don't like commies
That's what you say,
I guess that's why you dress just like a millionaire.
No city slickers
They don't do nothing for ya,
But clothes that don't scream "mid-town Madison" just bore ya…
(Snakey Palin pumps)
I made a feeble attempt at performing "Palin Pumps", after which you'll appreciate the therapy of the true classic.
Amy Winehouse – "Fuck me Pumps"
Happy Hanging Chad Day
I've heard a lot of comics complaining that Obama is difficult to lampoon, etc.  After Bush of the incomplete sentence (with sidekick Quayle), Mack Daddy Bubba Clinton and Dubya, there's a danger Obama will collapse the lampoon market (I guess that's why they're calling this a depression), though to be fair Barack did his little bit by picking up great gaffer Joe Biden.  None of them are a patch on Palin, though.  If McCain does go down in flames today, they're all talking Palin 2012.  I suspect she'd be good for a primary campaign about on par with Guliani's, but I'll sho 'nuff look forward to every minute of it.  I don't think I can say the same of my Lake Michigan fam, though.  There's only so much Blatz beer stardom they can take, and they're well past fed up.
P.S. I voted Wednesday, and if you haven't cast your ballot yet, don't even hang around to finish this senten
16 Comments copied from the archived TNB site »